How to Choose the Best Disposable Headphones for School Testing
As schools turn more and more to computer testing, the need for quality headphones increases. Teachers are finding their students frequently forget their headphones, and quality school sets need regular cleaning to ensure nothing is passed from one student to another in addition to a larger upfront cost. Because of these factors, more and more teachers are turning to disposable school testing headphones. Disposable headphones are sanitary and affordable, offering both parents and educators a great headphone option. Read on to learn how to choose the right headphone for your students and some of our top picks.
Choosing the Right Disposable Headphone
Budget
Disposable headphones are one of the cheapest options, especially if you purchase a quality set that can be reused several times before being disposed of. Most disposable sets are priced extremely low to ensure bulk buying, costing roughly a dollar per set depending on how many you purchase. If you need to regularly use headphones in the classroom, you won't need to worry about spending several hours a week thoroughly disinfecting a set. 
Durability
Many people think disposable means non-durable, but that couldn't be further from the truth. Many disposable headphones are made for a high-impact environment, such as the gym or airplanes, where manufacturers know they'll get subjected to plenty of wear and tear. While thin plastic models aren't going to survive being stepped on, with a little bit of care, they're just as likely to last as permanent models.
Comfort
In order to concentrate, many students need comfortable headphones. On-ear models are usually the most comfortable for kids, offering a crystal-clear listening experience without encompassing the entire ear. Earbuds tend to be the headphone of choice for older students; however, they may not be a great choice for younger students due to smaller ear canals. 
Our Recommendations
BUCKET OF EARBUDS – 100 PCS. SMILEY STEREO EARBUDS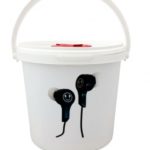 For older students, these earbuds can be a lifesaver. Featuring soft rubber tips that keep kids comfortable while blocking out noise, these headphones are great for those who need a large number of headphones. With proper care, each headphone set can be used numerous times throughout the school year.
DISPOSABLE HEADPHONES ENC-06 STEREO WHOLESALE HEADPHONES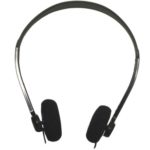 These inexpensive headphones are great for younger learners, offering stereo sound without breaking the bank. The 6-foot cord gives students plenty of room to move around while the individually packaged design ensures each set is sanitized and ready for use.
SOUNDNETIC SN250M DISPOSABLE STEREO HEADSETS TRRS PLUG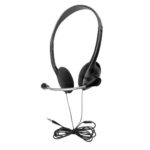 Compatible with Chromebooks and most other devices, these disposable headphones have a quality mic to ensure your students can communicate and listen with clarity. The foam ear cushions keep students comfortable while the steel-reinforced mic stands up to wear and tear. With proper handling, these headphones can last for a long time.
Choosing disposable headphones is easy once you know what to look for. By following the above guidelines, you can have quality disposable headphones in your classroom in no time at all. Need some extra help? Contact us today so we can find the right disposable headphones for your needs.